Who is Killing Doah's Deer?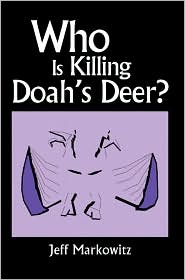 Cassie O'Malley writes stories about "everything out of the ordinary" for a barely reputable magazine. When the deer in Doah Township begin dying in large numbers, under mysterious circumstances, Cassie is on the story. But when she discovers a dead body among the deer, she is thrust into the middle of a murder investigation. Before the murder can be solved, Cassie must sort fact from fiction as she is confronted with questions of local politics, marital infidelity, Pine Barrens folklore, Siamese triplets, sea monsters, pterodactyls, plesiosaurs and the elusive Jersey Devil, leaving Cassie finally to grapple with the question, Who Is Killing Doah's Deer?
Available in paperback.

"It is rare for a male writer to create complex, believable female characters, though Mr. Markowitz makes it seem easy. I loved this story and the characters were so real--I felt like I knew them in real life" - Saadia A.

"everything a good mystery should be" - Colleen B.